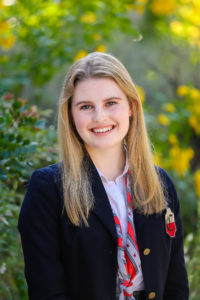 What is the most influential book you have read besides the Bible? Why?
The Book Thief. It showed what people went through in Germany during World War II and gives an example of what happens when people try to ban books.
What is your favorite or funniest moment at Geneva?
I didn't really have any because I'm never at school…ballet.
What will you miss most when you leave Geneva?
I will miss the friends I have made while at Geneva. Because Geneva has such small grades, you become close to your friends.
Who has influenced you most while at Geneva, How?
Ms. Vaughn has influenced me the most while at Geneva. She has opened my eyes to many places around the world and has given me the opportunity to see so much of God's creation. I have been able to experience many new places and people because of her.
What does being a Geneva student mean to you?
Being a Geneva student means being able to think for yourself, and being able to analyze every situation, and find the truth in it.

How would you encourage a Geneva kindergartner to persevere?
Find something you love to do and stick with it. Learn all you can about it, and you will enjoy school much more.
What about Geneva do you hope never changes?
I hope Geneva never takes away Mr. Shelton's Worldview class. It opens your eyes to different people's view on reality, and the books you read give you a new outlook on the world.