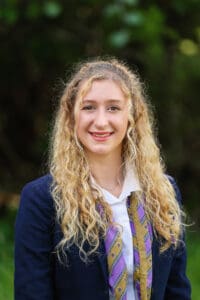 What is the most influential book you have read besides the Bible? Why?
Silence by Shūsaku Endō. It help me understand the meaning of sacrifice and intentions.
What is your favorite or funniest moment at Geneva?
When Mia and I had to hold up a barn set to keep it from falling down in the middle of Sabbath Prayer in Fiddler on the Roof.
What will you miss most when you leave Geneva?
Late night rehearsals
Who has influenced you most while at Geneva? How?
Mr. Bradshaw because showed me how to push through a difficult class or situation with a good attitude.
What does being a Geneva student mean to you?
It means I have the opportunity to see God's love through my education, friends, and the staff.
How would you encourage a Geneva kindergartner to persevere in school?
Instead of looking at the negative, focus on the positive and have fun.
What about Geneva do you hope never changes?
Geneva keeps its biblical teachings.