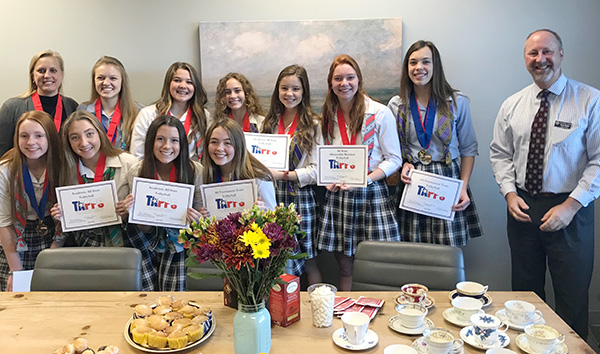 Geneva varsity volleyball athletes were recognized with individual TAPPS end-of-season awards for their excellence in the classroom as well as on the court. The Eagles finished their season as TAPPS 4A State Runner-Up with a record of 35-4. These student-athletes had their "Oval Office" moment when Head of School Brad Ryden presented them with these awards at breakfast on Monday, November 18.
"These ladies deserve a huge congratulations, not only for the success they achieved but more importantly in the way they went about reaching it. This young team supported and encouraged one another and were a joy to watch," Mr. Ryden said.
First team All-State: Karynn Garrow and Lily Radigan
Second team All-State: Katherine Lacy
All-State Honorable Mention: Chloe Higgs and Lily Langenbahn
First Team All-District: Karynn Garrow, Chloe Higgs, Katherine Lacy, Lily Langenbahn, Avery Myrick and Lily Radigan
2nd Team All-District: Alexis Davis and Katie-Grace Styles
Academic All-State: Alexis Davis, Katherine Lacy, Lily Radigan and Katie-Grace Styles
To earn Academic All-State, students must be a junior or senior, have at least a 90 cumulative grade point average and be selected to at least Second Team All-District.
"Back in February, this team set a goal to make it to State. They showed up each day wanting to work harder, sacrificing for each other, with a determination to do everything it took to make it there. This team is the most unselfish, hard-working group of girls I know. They inspired me each day," Coach Shelly Vaughn said.