The Geneva girls varsity track and field team won the TAPPS 4A Track and Field State Championship over the weekend at Midway High School Panther Stadium in Waco. This is the third Eagles girls track and field state championship for our seniors and the sixth in the history of our girls varsity track and field athletic program. The boys team finished in seventh place.
Eagles track and field athletes brought home four state titles at the meet. Senior Amy Ambelang claimed gold in the 100m and 300m hurdles and anchored the first place 4x200m relay team of Reese Ferguson, Kaitlyn Cates and Sophia Mixon. Junior Joseph Hohne won gold in the boys shot put. The Eagles girls team placed first out of 22 teams with 105 team points. Trinity Christian was runner-up with 89 points The Eagles boys team placed seventh overall out of 26 teams.
In addition, senior Amy Ambelang was named the TAPPS 4A State Track and Field Athlete of the Meet.
"I could not be more proud of such an amazing group of young ladies who all came together as a team and encouraged each other no matter what. They deserve everything they achieved this year. I want to congratulate them on such a great season! I thank God for blessing this team and we give him all the glory," Geneva varsity track and field head coach Maurice Mitchell said.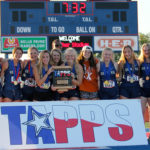 GIRLS RESULTS
Amy Ambelang – TAPPS 4A Athlete of the Meet
1st – 100mH (14.83)
1st – 300mH (45.98)
2nd – Long Jump (16'6.75″)
5th – High Jump (4'8″)
1st – 4x200m relay team anchor
Reese Ferguson
5th – 100m (13.15)
5th – 200m 26.91)
Alexa Elizondo
2nd – Pole Vault (9'0″)
6th – 400m (65.02)
Alexis Davis
7th – 800m (2:36.61)
Kaitlyn Cates
3rd – 300mH (48.16)
8th – Long Jump (14'3.5″)
Avery Myrick 
2nd – Discus (112'01")
Jacqueline Knox
3rd – Pole Vault (8'0″)
Caroline Chandler
8th – High Jump (5'6″)
4x400m relay – 4th (4:19.64)
Alexis Davis
Alexa Elizondo
Charlotte Walker
Kaitlyn Cates
4x200m relay – 1st (1:47.59)
Reese Ferguson
Kaitlyn Cates
Sophia Mixon
Amy Ambelang
*time breaks school record from 2017 State Champion relay team – Reese Ferguson, Karlie Daniels, Skylar Tippets, Kaila Daniels (1:47.87)
BOYS RESULTS
Joseph Hohne
2nd – Discus 158'0″ – breaks his previous school record by 13′ 9″
1st – shot put (51'4″)
Ethan Houser 
6th – 100m (11.35) – breaks his previous school record of 11.37
Grant Mowery
6th – Pole Vault (10'0″)
Joel Calderon
8th – 200m (23.94)
4x200m relay – 4th (1:32.84)
Josh Nate
Joel Calderon
Joseph Hohne
Ethan Houser
4x400m relay – 6th (3:35.65)
Brock Ambelang
Devon Ahrens
Easton Myrick
Josh Nate