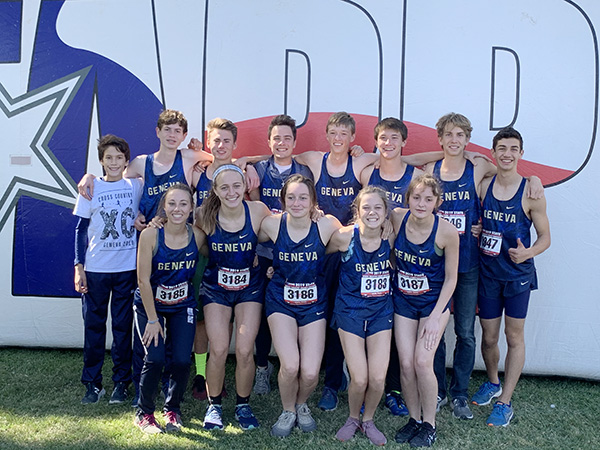 The Geneva varsity cross country team competed in the TAPPS 4A Cross Country State Meet at the Cottonwood Creek Golf Course in Waco on Monday. The boys team finished in ninth place overall with freshman A.J. Dube crossing the line as the top Eagles finisher with a time of 20:29:4 in the boys 5K race.
The Geneva girls team finished in sixth place overall. Sophomore Samantha Doran was the top Eagles girls finisher in 15th place with a time of 14:20:01 in the two-mile event.
The team is from left on front row: Emma De Vries, Kaitlyn Cates, Samantha Doran, Mattie Sue Arnold and Piper Hoke. Back row: A.J. Dube, Austin Malkowski, Michael De Vries, Anson Eggerss, Dawson Cate, David Grote, Noah Nilsson and Nicolas Siller. The team is coached by Eric Cate and assisted by Karen Cate.
Click on this link for more results/information: https://tapps.biz/2019-cross-country-championships/