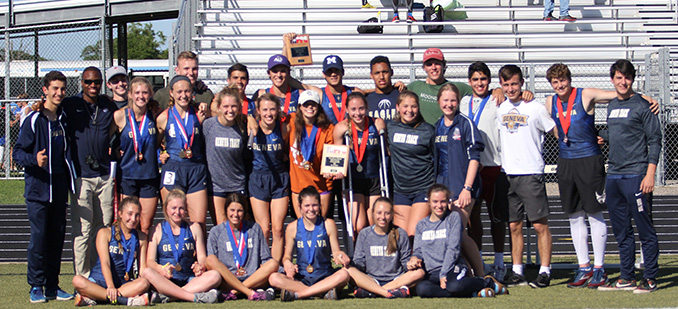 The Geneva varsity track and field team celebrates strong finishes at the TAPPS 4A South Regional Meet last Thursday in Bastrop. The girls team claimed the Regional Championship and the boys team finished in third place. Individuals from both teams will compete at the TAPPS 4A State Track and Field Meet on May 3-4 in Waco.
Senior Amy Ambelang led the girls team to victory tallying 38 individual points and anchored the champion 4x200m relay team. Freshmen Kaitlyn Cates and Alexa Elizondo had exceptional performances. Cates advances to State in the 300mH, long jump and as a member of the champion 4x200m and 4x400m relay teams. Elizondo advances in the pole vault, 400m and as a member of the 4x400m relay team.
The boys team was led by junior Joseph Hohne who tallied 20 individual points to the team total and was a member of the champion 4x200m relay team. School records also fell at the South Regional Meet when senior Ethan Houser placed second in the 100m with a time of (11.37) and junior Joel Calderon finished second in the 200m (23.58). Freshman Nicholas Siller moved to the top of the leader board with a new school record in the 800m (2:05.94).
Geneva sends the following athletes to the State Meet:
GIRLS
Amy Ambelang
100mH (14.77) – 1st
300mH (47.55) – 1st
high jump (4'10") – 2nd
long jump (16'5.5″) – 1st
Reese Ferguson
100m (13.21) – 4th
200m ( 27.44) – 2nd
4x200m – (1:49.84) – 1st
Sophia Mixon
Caroline Chandler
Kaitlyn Cates
Amy Ambelang
Alexa Elizondo
400m (1:05.09) – 4th
pole vault (8'0″) – 2nd
Kaitlyn Cates
300mH (49.25) – 3rd
long jump (15'5.5″) – 4th
Caroline Chandler – high jump (4'10") – 4th
Jacqueline Knox – pole vault (9'0″) -1st
4x400m (4:21.84) – 1st
Alexis Davis
Alexa Elizondo
Caroline Chandler
Kaitlyn Cates
Avery Myrick – discus (107'06") – 1st
BOYS
Ethan Houser – 100m (11.37) – 2nd (new school record)
4x200m – (1:32.90) – 1st
Josh Nate
Joseph Hohne
Joel Calderon
Ethan Houser
Joel Calderon – 200m (23.58) – 2nd (new school record)
4x400m – (3:36.99) – 2nd
Brock Ambelang
Devon Ahrens
Easton Myrick
Josh Nate
Joseph Hohne
discus (144'3.5″) – 2nd
shot put (50'4″) – 1st

Also earning points at the Regional Meet, but not advancing to State:
Emma De Vries – 3200m (14:42.40) – 6th
Alexis Davis – 800m (2:35.53) – 6th
Ashlynn Lavezzari – 400m (1:06.52) – 5th
Charlotte Walker – 300mH (50.52) – 5th
Sophia Mixon – 200m (28.52) – 5th
Avery Myrick – shot put (28'10") – 6th
Nicholas Siller 
800m (2:05.94) – 5th (new school record)
1600m (5:06.19) – 6th
Easton Myrick – discus (106'00") – 6th
Jacqueline Knox – triple jump ( 31'06.5″) – 5th