What is the most influential part of the Bible? Why?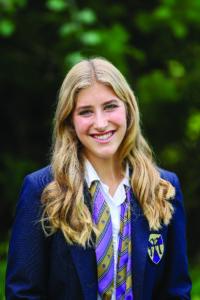 The most influential book of the Bible would have to be John. I have always loved how the gospels dive deep into the life that Jesus lived and the peace He brought to all. John is a book that shows how amazing Jesus was and continues to be throughout my life.
What is your favorite or funniest moment at Geneva?
My favorite moment at Geneva was when I was inducted into my house. I loved the excitement of the whole initiation process. It is so much fun to be a part of a group that loves each other so much.
What will you miss most when you leave Geneva?
I will miss the community that Geneva holds. It is such a special place and has formed my childhood in so many ways. I will always cherish Geneva and the friendships that I have formed while being a part of it.
Who has influenced you most while at Geneva? How?
Mrs. Greenlees has influenced me most while at Geneva. I have the privilege to see Mrs. Greenlees in a sport and in a classroom. She exemplifies what being a strong Christian looks like. Mrs. Greenlees chooses to give love and kindness to everyone she meets. She puts others before herself in every area of her job. You can truly tell how much she loves her students just by her day to day actions.
What does being a Geneva student mean to you?
A Geneva student is someone who cares for others as the way Christ cares for us. They are leaders who have the opportunity to show the love of Christ throughout their daily life. A Geneva student stands for what they believe in no matter the circumstance.
How would you encourage a Geneva kindergartener to persevere in school?
I would tell the kindergartener to trust in God and His plan for you. I would encourage them to not worry and appreciate that God is sovereign and knows what is best for you.
What about Geneva do you hope never changes?
I hope Geneva never stops standing up for what is morally acceptable in God's eyes. I know that with the culture of today, we are tempted to follow along. I hope that Geneva continues to encourage students to spread the light of Christ no matter what the culture might think.