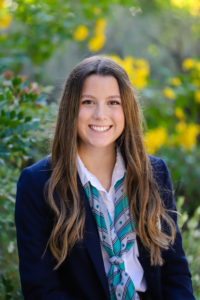 What is the most influential book you have read besides the Bible? Why?
Silence was my favorite book because it changed the way that I look at my faith.
What is your favorite or funniest moment at Geneva?
My favorite moment was with the volleyball team. We have a great team culture and so spending time together is always so much fun. We went to state last year and made so many great memories. But my favorite is walking out onto the court for the first time and seeing all the Geneva students and parent there to support us. It reminded me how lucky I am to go to a school that would rally together to come support us. 
What will you miss most when you leave Geneva?
I will miss the community: being able to walk down the boardwalk and greet everyone as I go to class, seeing the whole senior class every day, and having teachers who genuinely care about you and are here for you.
Who has influenced you most while at Geneva, How?
Mrs. Vaughn has influenced me the most. She has been my teacher as well as my coach. She has encouraged me to push myself in everything as well as help me learn and grow in my faith. I am forever grateful for the experiences she has provided me.
What does being a Geneva student mean to you?
It means to me that you do more than the minimum. You push yourself in school, sports, and anything else. You learn about your faith and how to stand firm in your belief once you have left and gone out in the world.
How would you encourage a Geneva kindergartner to persevere?
My advice to a kindergartener is to not want to grow up too fast. Enjoy each and every moment because it goes by so fast and those memories will last with you forever.
What about Geneva do you hope never changes?
I hope that the student/teacher culture never changes and that it would remain a smaller school because being able to grow up with the same students and knowing everyone's name when you walk down the boardwalk has been a unique experience.