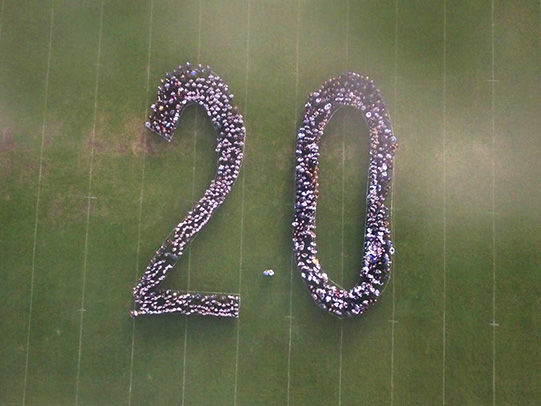 Geneva celebrated 20 years of God's faithfulness at the Jogathon Pep Rally this morning! The drumline and cheerleaders led the entire school to the football field for a pep rally to get fired up for Geneva's 20 years and our 1 FUN DAY OF CELEBRATION set for October 18!
The school community will run in the Jogathon, enjoy GCL's annual EagleFest with booths of food and games, welcome home alumni and cheer on our Eagles football team at the Homecoming Game …all in 1 FUN DAY on October 18!
This picture is an aerial shot taken by senior Maddie Chandler at this morning's pep rally of the entire student body and faculty positioned in the shape of a 20 to celebrate 20 years of Geneva.
At the Jogathon pep rally, the band played, the students cheered and Development Director Amy Metzger and Head of School Brad Ryden cast the vision for the 20th Anniversary Celebration on October 18 when students, parents and faculty will run for pledges in the annual Jogathon to raise money for financial aid. Students are challenged to collect 20 pledges of $20 or more to coincide with 20 years of Geneva!
Today's celebration concluded with the singing of the Geneva Fight Song, expressing thanks to founders Cindy and Brian Fowler, Joanne and Robert Thornton and Paula and Bret Wacker for starting this school and then ended with a prayer giving God the glory for 20 amazing years of Geneva School of Boerne!