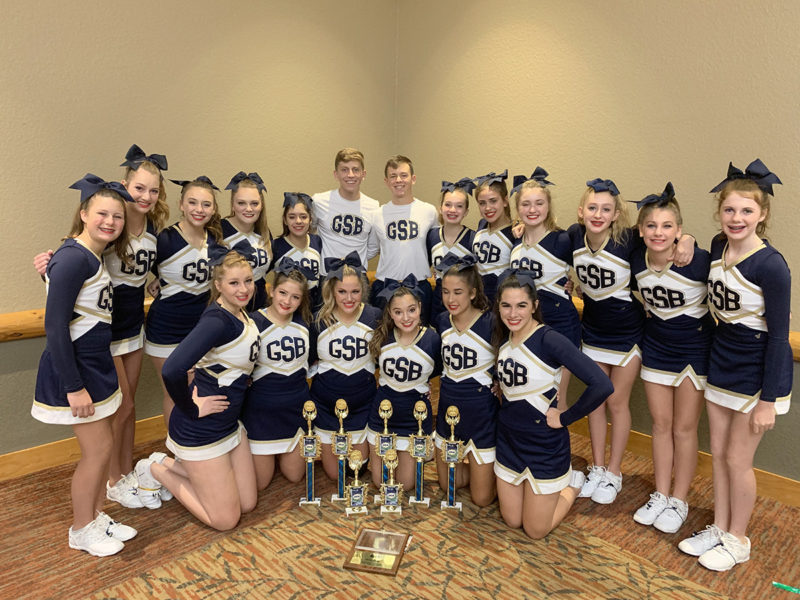 The Geneva cheer squads attended the UCA Cheer Camp at Great Wolf Lodge in Grapevine the second week of August and earned several top awards.
Hanson Brown, Kate Flora and Jack Cupit were recognized with the Pin-It-Forward Award for outstanding character. Several members of the squad were named to the All-American Cheer Team and have the opportunity to represent Geneva at various events across the country and in Europe throughout the year. These members are Bailey Lyons, Emmalee Jonas, Hanson Brown, Natalya Pedraza, Jack Cupit, Corley Petrie and Sophia Baldwin.
All eight of the Geneva seniors (Emmalee Jonas, Corley Petrie, Natalya Pedraza, Lydia duPerier, Gillian Loflin, Hanson Brown, Kate Flora and Jack Cupit) were honored with an invitation to try out for the 2020 UCA Staff.
The varsity squad placed first in Rally Routine, first in Cheer and second for Overall Championship in the small varsity division. They were also recognized for excellence all week. The freshman squad placed second in Rally Routine and first in Cheer out of the JV teams. They were also recognized for great improvement.
Finally, Geneva earned the Top Banana Award for most-spirited the first day as well as spirit sticks each day. They were chosen by the competing cheer teams for the Leadership Award for standing out as leaders overall throughout the week as well.
"I am proud of my cheer team for representing Geneva so well! Senior captains Natalya Pedraza and Corley Petrie went in with a goal for their team to spread their awesome Geneva spirit all week, and they were successful! I love seeing my team encourage each other at camp and inspire the other teams to be united too. What a great way to kick off our cheer year!" Head Cheer Coach Amber Jonas said. Jonas was assisted by Geneva alumni cheerleader Heather Jonas.