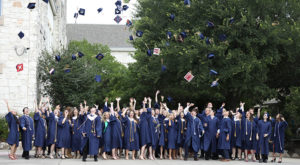 Geneva held its 2019 Commencement Exercises on Saturday, May 25, at University United Methodist Church in San Antonio. This class of 55 seniors is the ninth graduating class of Geneva School.
The Class of 2019 had 15 students who are members of the Geneva Guild which recognizes those who began at Geneva in kindergarten and completed all 13 years at the school. The 2019 Geneva Guild members are Aisling Ayers, Amber Bormann, Wyatt Erfurt, Eleanor Galbreath, Gabi Griffey, Daniel Grover, Lindsey Jarvis, Aubrey Matson, Tyler McBroom, Aimée Metzger, Scott Standerfer, Noah Tennison, Callen Vaught, Nathan Young and Nathan Zuniga.
The Commencement Exercises began with a prelude of classical music played by Geneva School musicians including a Choral Invocation titled "Peace of God" sung by the Geneva Choir. The processional, "79th's Farewell to Gibraltar," was played on bagpipes by 2016 graduate Drei Richardson.
Head of School Brad Ryden gave the welcome and Dr. Rodney Lloyd, retiring Rhetoric School faculty member from 2008-2019, offered the scripture reading from 1 Corinthians 15:58 as well as the opening prayer. Valedictorian Eleanor Galbreath and Salutatorian Jacqueline Knox each addressed the graduates personally in their speeches before the assembly sang the hymn "Great is Thy Faithfulness."
Dirk Russell, Geneva's Academic Dean, delivered the Commencement Speech titled "Congratulations! Now What?" in which he encouraged the graduates to seek first God's kingdom and entrust their future to Him. Graduate Eleanor Galbreath was recognized as the winner of the G.K. Chesterton Award for the best overall Senior Thesis presentation.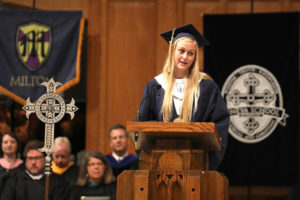 After the graduates were conferred, the Geneva community joined together to sing the school's Alma Mater and the hymn "Non Nobis," which is Latin for "Not unto us, O Lord, but to Your name give glory" from Psalm 115:1.
"Singing this hymn at the end of each school year serves as a fitting reminder that we exist not for our own glory but for the glory of God. We end our school year by giving glory to God as we congratulate the Class of 2019," Head of School Brad Ryden said.
Amy Metzger, Geneva's Development Director and parent of three graduates, offered the closing prayer. The Faculty Choir sang "The Lord Bless You and Keep You" before the Commencement Exercises closed with the recessional "On the Road to Passchendaele" played on the bagpipes by Richardson.