It is with great excitement that Geneva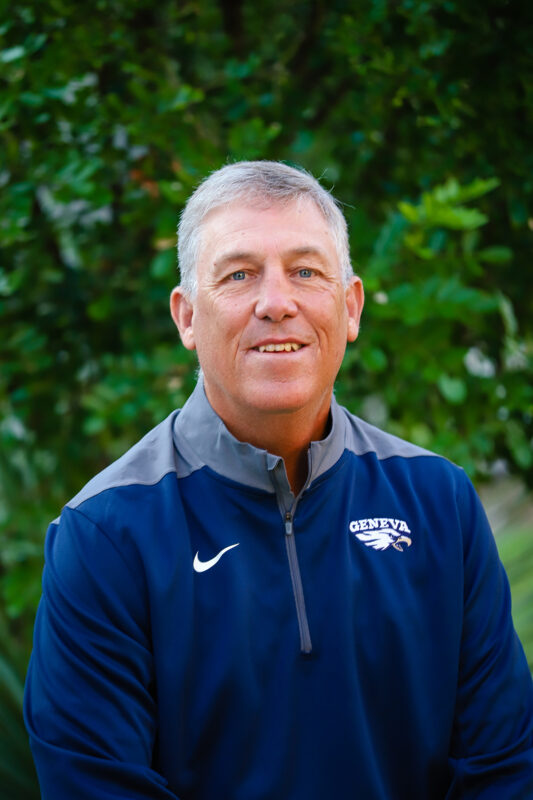 announces the hire of Julius Scott as its new Football Program Director and Varsity Head Football Coach.
"Coach Scott was chosen because we believe that he will make fulfilling Geneva's mission central to the school's football program's definition of success. In addition to his many past accomplishments, he has excellent coaching skills, organization and a great rapport with his athletes," Geneva Athletic Director Eric Boerboom said.
Scott replaces longtime friend and coach Dean Herbort who decided not to return to Geneva next year. Herbort served as Geneva's Football Program Director and Varsity Head Football Coach for eight years and led Eagles Football to its only 11-man State Championship in 2019. The Eagles also won a State Championship in 6-man football in 2014.
"I can't begin to tell you what an honor and privilege it is to be chosen to lead the Geneva Football Program. Following Coach Herbort and the rich tradition Geneva football has enjoyed in the past will certainly not be easy. Then again, nothing worthwhile in life is easy," Scott said.
Geneva School of Boerne exists to provide a classical education from a biblical worldview to equip students for a lifetime of learning, service, and leadership to the glory of Jesus Christ. The school is located on Cascade Caverns Road in Boerne with 691 students in K-12. The school currently competes in TAPPS 5A and will move to the 4A classification next year due to an increased student enrollment cut-off set by TAPPS.
"Given that our mission is as applicable on the football field as it is on stage or in an algebra class, it was essential that we selected a person to lead our football program who understands the eternal stakes of all our earthly endeavors. While football is all about two things—blocking and tackling, life is about one thing—glorifying God in all that we do," Boerboom said. "In an age when the essential spiritual, intellectual and physical disciplines are out of favor because they are hard to acquire, Coach Scott has been a continual support for Geneva's students, teaching them the virtues of courage, discipline and perseverance both on and off the field."
Joining Scott on his staff will be Duane Kroeker, Trent Willoughby, Jimmy Morris and Steve Rippee, who likewise are united in their vision of how athletics is essential to fulfilling Geneva's mission.
"I am not excited because of the title of head football coach, but because of the call that God has on my life for this time and in this place called Geneva which I love so much," Scott said.
Scott was raised in Kerrville where he graduated from Tivy High School in 1978. He played baseball for Louisiana State University where he graduated in 1984 with a Bachelor of Science degree in General Studies. After retiring from a 34-year coaching career in the public school systems of Kerrville, Centerpoint, New Braunfels, Judson, Hayes and Goliad, Scott joined the Geneva coaching staff in 2018 as the Logic School Athletic Director and has coached middle school baseball, football, softball, track and field as well as high school football.
Scott and his wife Jan of 37 years have two daughters and three grandchildren: daughter Jacquelyn and son-in-law David Gomez and grandchildren Jaxson and Adelina, daughter Jordan and son-in-law Rene and granddaughter Isabelle Arces.