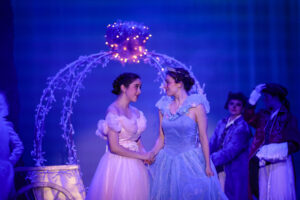 The Geneva Fine Arts Department recently finished its production of "Rodgers and Hammerstein's Cinderella." This musical is a beloved story of a young woman living with her stepmother and stepsisters who treat her like a servant girl, but her life changes at the Prince's Royal Ball.
"The Broadway rendition of Cinderella contains overt themes of Christianity which resonate deeply with our actors and audience. I consider it a privilege to lead such dedicated students, and I heartily congratulate their musicality as well as the delivery of the story," the show's Music Director Ben Vis said.
Geneva's production included more than 80 students, faculty and parents including cast, crew and a live orchestra who worked together on this musical. Tryouts were held for students in the fall semester and rehearsals began in November. The cast included high school students who portrayed a delightful variety of characters.
Ella was played by junior Mari-Fer Ballí and senior Nicolas Siller played Prince Topher. Other key roles were played by senior Annie Ramsey (Madame), sophomore Will Muck (Sebastian), junior Collin Sutton (Jean-Michel), senior Cassidy Egli (Charlotte), senior Anna Beth Muck and sophomore Kate Travis (Gabrielle) and junior Juliana Flores (Marie/Fairy Godmother.)
The production was led by Ben Vis with a leadership team including Character Development Autumn Jones, Audio Engineer Luis Arizpe, Ensemble Director/Ticketing Suzie Rocha, Trick Costuming Sara Sisam, Fine Arts Director Gradi Evans and Orchestra Pit Organizer Sarah Gachupin.