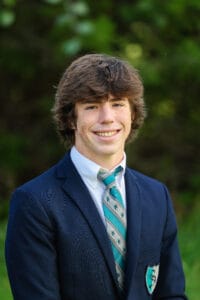 What is the most influential book you have read besides the Bible? Why?
The most influential book I have read at Geneva has to be Silence. It brings to light the struggle of Christian's and how sometimes we may have it easy. It also shows what being a true Christian really looks like in times of struggle.
What is your favorite or funniest moment at Geneva?
It was my freshman year and me and Luke Pratt rolled a super large tire down the boardwalk stairs by the basketball court and it ended up going straight through one of the walls.
What will you miss most when you leave Geneva?
What I will miss the most is the community. It's different here than most places because the people actually care about you and love you as well as wanting to Make you better.
Who has influenced you most while at Geneva? How?
Coach Scott has influenced me the most by teaching me to love and embrace difficult things. I see Christ shine through him and see the light he brings to this campus and that just makes me want to chase after Christ even more.
What does being a Geneva student mean to you?
For me it means always making the right decision no matter if it's the popular or unpopular decision. It also means putting Jesus and others first while putting yourself last.
How would you encourage a Geneva kindergartner to persevere in school?
I would say that although in the moment it might not seem worth it or fun, but if you preserver and get to that end result you will be so thankful
What about Geneva do you hope never changes?
I hope Geneva never changes in the way that it is different than the rest? It's weird and silly sometimes but the teachers and people here really separate the school from others.