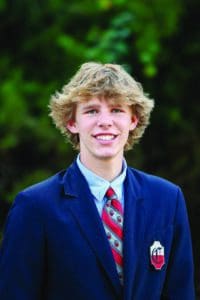 What is the most influential book you have read besides the Bible? Why?
To Kill a Mockingbird was the most influential because it sheds light on how unfairly black people have been treated, and it was great to see that even then there were a few people who treated others fairly.
What is your favorite or funniest moment at Geneva?
Some of my funniest moments happened on the bus rides back from sports games and while getting food with the team.
What will you miss most when you leave Geneva?
I will miss the community and all the amazing friends I've made.
Who has influenced you most while at Geneva? How?
Mrs. Davis has influenced me the most because she is just a great person that brings so much joy to the classroom.
What does being a Geneva student mean to you?
Being a student at Geneva means being a follower of Christ who works hard in everything from school work to sports.
How would you encourage a Geneva kindergartner to persevere in school?
I would tell a kindergartner, "You get what you put in. If you work hard, you will do well."
What about Geneva do you hope never changes?
I hope the great connection between the teachers and students at Geneva never changes.