What is the most influential book you have read besides the Bible? Why?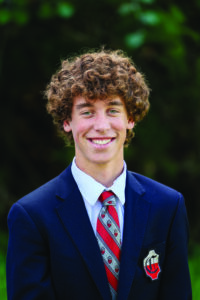 The Hiding Place by Corrie Ten Boom was my favorite book I've read during my time at Geneva because she showed how a great Christian acts in times of hardship. She was a great role models to others around her.
What is your favorite or funniest moment at Geneva?
My favorite moment at Geneva was winning our first round playoff game my junior year.
What will you miss most when you leave Geneva?
I will miss my friends that I met in kindergarten and have been with all of my life.
Who has influenced you most while at Geneva? How?
Mr. Arizpe has influenced the most at Geneva because he shows his love for us all the time while being lighthearted and funny.
What does being a Geneva student mean to you?
It means being a good role model for others and showing what a Christian should look like and how they should act.
How would you encourage a Geneva kindergartener to persevere in school?
I would say find things that you like and make sure you surround yourself with good people.
What about Geneva do you hope never changes?
I hope that the small community and outdoor campus at Geneva never changes. Being able to be close with your teachers and people in your grade is awesome.