What is the most influential book you have read besides the Bible? Why?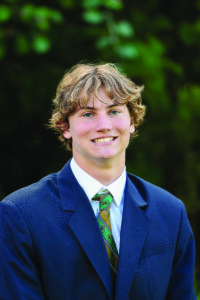 The most influential book I have read besides the Bible is Through My Eyes, Tim Tebow's autobiography. He is a great man of faith and a personal role model for me.
What is your favorite or funniest moment at Geneva?
My favorite Geneva moment would be my entire junior year spent in Mrs. Jeffcoat's Earth and Space Science class.
What will you miss most when you leave Geneva?
I will miss seeing my favorite teachers and my friends every day.
Who has influenced you most while at Geneva? How?
Coach McNeal has influenced me most while at Geneva. He has been a great mentor, teacher and coach and always helps me to improve as a football player and person.
What does being a Geneva student mean to you?
Being a Geneva student means going above and beyond and aiming for a standard of excellence.
How would you encourage a Geneva kindergartener to persevere in school?
I would tell a Geneva kindergartner to enjoy the time and memories you make every year.
What about Geneva do you hope never changes?
I hope the care students receive from coaches and teachers never changes.