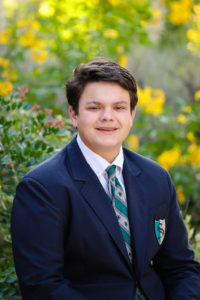 What is the most influential book you have read besides the Bible? Why?
The most influential book that I have read is called Golf My Way by Jack Nicklaus because  it talks about how you don't have to copy someone's golf game to be good but to be good you have to find your own strengths and weaknesses and practice every day to get better from there.
What is your favorite or funniest moment at Geneva?
My favorite moment at Geneva was when me and my teammates (and most of all, great buddies) won a state golf championship on the coach's birthday. My other favorite moment (and you don't have to put this) but it was when I scored 25 points in lunch basketball that we played every day sophomore and junior year.
What will you miss most when you leave Geneva?
What I will miss most about Geneva is the community and teachers because they are all so loving and they are so supportive in all that the students do.
Who has influenced you most while at Geneva, How?
The person that has most influenced me is Mr. Shelton because every time he walks by one of us students he always takes time out of his day to start a conversation with that student. Mr. Shelton's talks in assembly are so helpful in life today because he uses references from the Bible when he talks and he gives examples of how to be a better man today from scripture.
What does being a Geneva student mean to you?
Being a Geneva student means everything to me because it has made me who I am today—to work hard in school and outside of school.  
How would you encourage a Geneva kindergartner to persevere?
I would encourage a kindergartner to always be prepared in school and when you get to middle and high school to always do your homework the night before and always take advantage of your study halls.
What about Geneva do you hope never changes?
What I hope never changes at Geneva is the loving and caring for one another that the teachers give us students.