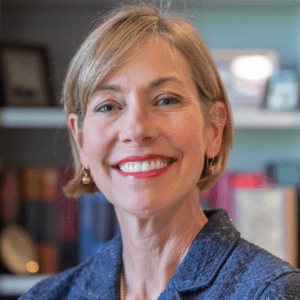 The Board of Trustees is pleased to announce that it has unanimously selected Leslie Moeller to serve as its next Head of School and she has accepted the position to begin in June 2024.
Leslie served as Geneva's Head of School during the 2005-06 school year, and we are amazed and grateful that God has provided for her return after all these years and for her answer to His call to lead Geneva once again.
If the Search Committee had focused on competency alone, Leslie would have been the top candidate in the country. Leslie has been a leader among leaders in the realm of Classical Christian Education having promoted the movement in her role as the Chair of the Board for the Society of Classical Learning for the past 16 years.
"Leslie is one of the most capable and knowledgeable leaders in the classical Christian school movement. She leads with passion, integrity, strength and impeccable character. I could not be more excited for her and the Geneva community," SCL President Eric Cook, said.
She has consulted with schools across the nation, including Geneva, for over 13 years and has served on the Board here and at two other schools. She also served for three years as Head of Upper School at The Covenant School in Charlottesville, Virginia, and teaches in the Gordon College Masters of Arts in Leadership for Classical Schools program. Her ability to lead well stems directly from her own experience as an administrator and teacher.
During her years at Geneva from 2004-2015, Leslie served as Head of School, Board of Trustees Chair, co-chaired Geneva's first Capital Campaign, helped develop the Logic School language arts program, directed Geneva's first play, and taught Logic School literature, grammar and vocabulary. She also co-founded the Geneva Debate Team and coached them to national recognition and taught Senior Thesis.
She has an undergraduate degree in English Literature and Economics from the University of Virginia and her J.D. from Boston College Law School. She was a litigator first in Chicago and then in Dallas prior to the birth of her first child. Her family moved to Boerne and joined Geneva in 2002 when her oldest son entered second grade. She began teaching in 2004.
Leslie and her husband Eric of 35 years, have two married sons who are Geneva graduates as well as one high school daughter and two granddaughters—Jack (Class of 2013), wife Natalie and baby Helen; Gray (Class of 2015), wife Samantha and baby Bonnie; and daughter Virginia who is currently a junior at The Veritas School in Richmond, Virginia.
"God has given me the privilege of working with a wide variety of classical, Christian schools and my exposure to other schools across the nation has only increased my appreciation for Geneva. Geneva's founders started the school with a deep commitment to a counter-cultural, Christian education designed to shape students to lead thoughtful and meaningful lives. I have seen the rich fruit of their Geneva education in my own children. Debbie and the current Board are as committed to that original vision as the founders who are still involved and supporting the school. I am humbled and grateful that God would allow me the opportunity to return to Geneva, work with them, and be a part of the next chapter in the school He has built and continues to bless," Leslie said.
The Search Committee has been diligent to seek God's wisdom in its charge to recommend a permanent Head of School. God has been faithful to the school again in this process to provide Leslie to lead Geneva beginning June 2024 for the 2024-25 school year.
The Board of Trustees would like to thank Debbie Ledoux for serving Geneva well by stepping in mid-year with such skill, passion and excellence when very hard decisions needed to be made. Debbie has embraced her role as interim not simply as a bridge between our last Head of School and the next, but as an elevator to bring Geneva up a level administratively, academically and spiritually—exhibiting the fruits of the spirit as she represents the name of Jesus with excellence in this place.
The Search Committee witnessed the goodness of God as they saw how He has once again provided the right person at the right time as He has done countless times over Geneva's history. Debbie's willingness to serve through the end of the 2023-24 academic year has allowed for Leslie to remain in Virginia so that her daughter can finish high school and her husband Eric, who serves in the State Cabinet, can complete his two-year commitment to the Governor before making this transition to return to Boerne.
We look forward to introducing and/or reacquainting you with Leslie in the weeks and months to come. Although she and her husband Eric won't move back to Boerne until next year, she will be a frequent visitor on campus as she and Debbie partner together to ensure a smooth, steady and orderly transition of leadership.
To God be the glory for the great things He has done and is doing!
The Board of Trustees