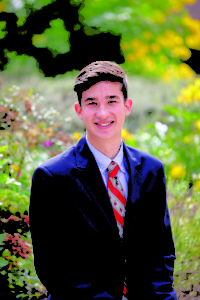 What is the most influential book you have read besides the Bible? Why?
Plato's Republic is the most influential piece I have read besides the Bible. I enjoyed it more because I am older and understood more because of that than other books. I enjoyed Socrates and seeing the characters have important discussions in their time, and still are over 2,000 years later.
What is your funniest moment at Geneva?
My funniest moment at Geneva was one day in Mrs. Greenlees' junior class. The boys in the back were being boys and Joseph got up and turned around to me and started dancing when Mrs. Greenlees' was writing on the board. Trevor Higgs stuck his pencil on Joseph's chair, and when Mrs. Greenlees was finishing writing and about to turn back around, Joseph sat down and let out the loudest scream ever. The pencil had shattered, and Mrs. Greenlees knew something had happened and decided to call Joseph out for making the noise, because it normally was him. The last 5 minutes of class was the hardest I've ever tried not to die laughing as Joseph's head was down on the table for the rest of the time, letting out an occasional groan.
What will you miss most when you leave Geneva?
I will miss the bond our whole grade shares here at Geneva. After being with some of my friends for 13 years it is hard to imagine moving on and leaving these amazing people.
Who has influenced you most while at Geneva? Why?
Mr. Graham has been my biggest influence throughout my high school years. He strikes a great balance of being an approachable male model for the boys to follow, while also serving as a behavioral dean that disciplines well. I admire him for his hard work. He attends classes outside of school for personal learning, prepare new classes for us to take, and also puts up with all of us.
What does being a Geneva student mean to you?
Being a Geneva student means that throughout the past 13 years I have been completely transformed by these teachers and their hard work. They have poured into me educationally and spiritually. It is an experience you can't get most places. It's strange to think how different I would be today if I had gone to another school.
How would you encourage a Geneva kindergartner to persevere in school?
I would encourage kindergartners to just enjoy the time here because it sometimes feels so slow. I felt like logic school would never come, until it did. Once in logic school, high school and senior year was still so far off. Now that I am here for my last year, I realize how fast it went by. I would challenge students to not only focus on schoolwork, but to enjoy time with friends. I would share with them to not be scared to make friends with teachers, because they want to be friends with you.
What about Geneva do you hope never changes?
I hope the relationships between students and teachers never change. I love having a conversation with teachers at lunch on the boardwalk and saying hi at H-E-B! I enjoy joking around and sometimes being playfully insulted by Mr. Shelton. Everyone, student and teacher, should take advantage of such an awesome bond.