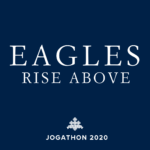 Thanks to all who helped make the 2020 Jogathon a success! Parents were welcomed back to campus during the school day for the first time this year to watch and cheer on their kids. Students ran, walked and danced their hearts out around the brightly-decorated Eagles Football Field. There was fun music, a lot of energy and much joy as students, teachers and parents celebrated being together.
Grammar students participated by grade level, Logic students ran as Devo Groups and Rhetoric students continue to secure flat rate pledges to raise money for the 2021-2022 Geneva Financial Aid Fund. There is a competition among the schools and awards will be given to the Grammar School grade level, the Logic School Devo Group and the Rhetoric School House who secures the most pledges and raises the most money.
"It was so much fun to have parents back on campus! This year's Jogathon hearkened back to the days when we used to have the Jogathon on the football field. Thanks to the GCL who made it so festive and fun. This is a day our students will remember; it provided a bit of normalcy and celebration during this time. I am proud of our students and am thankful for our community who is willing to do hard things for others," Development Assistant and event coordinator Shelly Vaughn said.
Pledges and money may be collected until Monday, November 9. Our goal is to raise $140,000 for the 2021-2022 Geneva Financial Aid Fund. GIVE TODAY and share the link below with family and friends so more students can continue to experience Geneva's classical and Christian curriculum, deeply invested teachers and the faithful, supportive community that helps them thrive and become who God made them to be! EAGLES…RISE ABOVE!