What is the most influential book you have read besides the Bible? Why?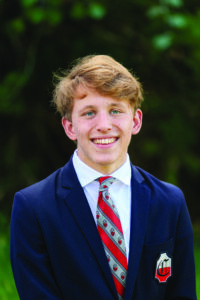 The Consolation of Philosophy, it explained philosophy in a way that just made sense but then everything else made sense as well.
What is your favorite or funniest moment at Geneva?
Finding out what Mr Johnson's band was and then being able to be one of the audio people who did the sound for his concert at Geneva, cause it was cool seeing every piece of equipment needed.
What will you miss most when you leave Geneva?
The will miss the chaos of the musicals the most when I leave.
Who has influenced you most while at Geneva? How?
Either Mr Arizpe or Mr Poole. Mr Arizpe his view of life. Mr Poole his explanation of how casual and chill God can be.
What does being a Geneva student mean to you?
A student who puts forth effort and a heart for Jesus
How would you encourage a Geneva kindergartener to persevere in school?
Don't let the little mishaps or bad grades or other things slow you down. Yes, address those problems but don't let them completely stop you.
What about Geneva do you hope never changes?
The hope trust that people and staff place in you never changes.