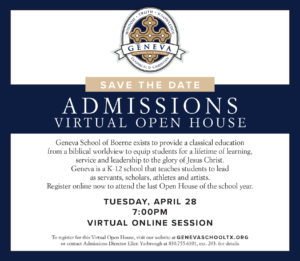 Geneva provides multiple open house events throughout the school year for potential parents and students to visit campus and get an up-close view of Geneva in action. They meet the admissions director, administrators and teachers to learn more about the school's history, beliefs and philosophy of education.
Because of the COVID-19 social distancing guidelines, Geneva has added an additional Open House for the 2019-2020 school year. This event will be a virtual online session and is scheduled for 7pm on Tuesday, April 28. Click here to learn more and here to register for this Virtual Open House.
"We look forward to a wonderful evening. We pack a rich Geneva experience into this event which includes a meet and greet, Prezi presentation, virtual tour and a Q&A with our head of school," Geneva Admissions Director Ellen Yarbrough said.
Geneva's 690 students in K-12 are currently participating in a virtual learning program as they celebrate the school's 20th anniversary this year. Geneva is a classical and Christian school which began in 1999 with 13 students in borrowed classrooms at St. John Lutheran Church and moved to the current campus at 113 Cascade Caverns Road in 2004.
Geneva high school students compete in the Texas Association of Private and Parochial Schools (TAPPS) 4A division for academic, athletic and fine arts competitions and were awarded the Henderson Cup as the best overall school for the past two years in TAPPS 4A. Although these activities have been suspended for the foreseeable future, the school plans to compete at the TAPPS 5A classification for the 2020-2021 school year.
The tenth graduating senior class is set to graduate in May, although details are yet to be determined.