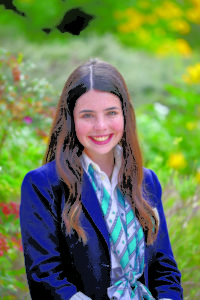 What is the most influential book you have read besides the Bible? Why?
The most influential book I read at Geneva is The Consolation of Philosophy. It taught me so much about happiness and the in class discussions we had about it were some of my favorites.
What is your favorite or funniest moment at Geneva?
My funniest moment at Geneva was sophomore year when we were in the Journalism room and Will Langenbahn decided to throw a football at one of the walls and shattered a picture frame. We all sat on the ground and laughed for 20 minutes!
What will you miss most when you leave Geneva?
I will miss the community most. My faculty and classmates have become my family and I am so thankful to grow up in a school such as Geneva.
Who has influenced you most while at Geneva? How?
Mrs. Greenlees has influenced me the most at Geneva. She taught me that I am capable of doing anything I set my mind to.
What does being a Geneva student mean to you?
Being a Geneva student means being dedicated, hardworking and doing all things through Christ.
How would you encourage a Geneva kindergartner to persevere in school?
I would tell them to keep your friends close; you will have a bond like no other. Connect with your teachers because they truly care about you.
What about Geneva do you hope never changes?
I hope Geneva never changes the technology-free learning. Learning in a book instead of on a tablet really changes my point of view of learning.