What is the most influential book you have read besides the Bible? Why?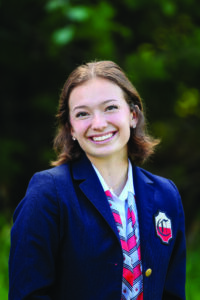 The very first books that I read on my own were the most influential. The Magic Tree House series really sparked my imagination at a young age. I consider myself a pretty creative person from reading those books.
What is your favorite or funniest moment at Geneva?
My favorite moment was on the way back from a choir TAPPS competition. Everyone on the bus sang our favorite piece all together. That was definitely a core memory.
What will you miss most when you leave Geneva?
The relationships with classmates and teachers.
Who has influenced you most while at Geneva? How?
Mr. Southwick, he showed me to embrace who I am. People come from different backgrounds and beliefs and that is okay.
What does being a Geneva student mean to you?
It means leadership. Not only just to lead, but to lead with humility and selflessness. This school has truly improved my leadership skills.
How would you encourage a Geneva kindergartener to persevere in school?
Surround yourself with people who love you and will lift you up. Surrounding yourself with those people can get you through the ups and downs of growing up.
What about Geneva do you hope never changes?
I hope the unique structure never changes. I really enjoy the housing system.