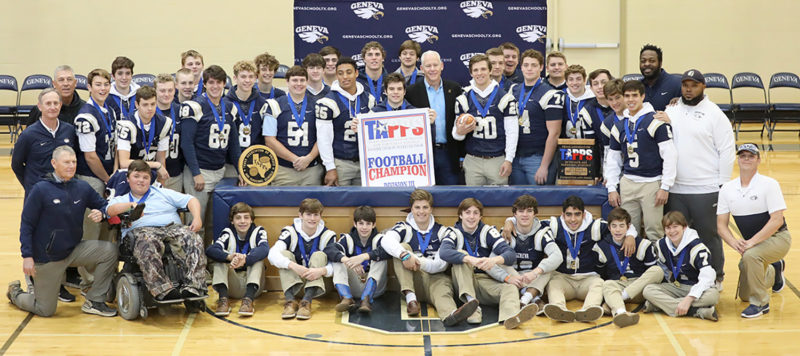 Boerne Mayor Tim Handren proclaimed December 12, 2019 as GENEVA EAGLES DAY as he came to campus to honor the Eagles' Football Team and applaud them for winning the TAPPS Division III State Championship.
Geneva Athletic Director Eric Boerboom, Geneva founder and Boerne City Council member Dr. Brian Fowler and Coach Dean Herbort each addressed the crowd and gave glory to God as they praised the players, coaches, band, cheer squad, parents, administrators and the entire Geneva community for their incredible season and achievement.
"I continue to be very proud to wear this Geneva sweatshirt (which he said he's worn for 20 years). What I love most about wearing it is that I know who you are and Who you honor. Today, the One you honor is taking a moment to remind you that He is honoring you as you are recognized by your community. Congratulations for a job well done! Enjoy this day!" Fowler said.
In addition, the Athletic Department released the 2019 TAPPS end-of-season football individual awards today. Congratulations to these players for their outstanding achievement and what their efforts added to the team.
All-District awards
1st Team Offense
Linemen – Seth Bower, Kade Nicholls, Seth Ramsey
Backs – Brock Ambelang
Receivers – Joel Calderon, Easton Myrick, Jackson Young, Ethan Valdez
Athlete – Cade Barone
1st Team Defense
Linemen – Travis Ratteree, Zack Fly
Linebackers – Josh Lopez, Joseph Hohne
Secondary – Joel Calderon, Aidan Christal, Josh Nate
2nd Team Offense
Linemen – John Henry Friesenhahn
Tight End – Grant Mowery
Kicker – Ethan Valdez
2nd Team Defense
Linemen – Seth Ramsey, Kade Nicholls
Linebackers – Brock Ambelang
Secondary – Ethan Valdez
Honorable Mention Offense
Linemen – Corvin Jonas
Honorable Mention Defense
Secondary – Jackson Friesenhahn
ALL-STATE AWards
1st Team Offense
Seth Bower – Lineman
Joel Calderon – Receiver
Cade Barone – Athlete
1st Team Defense
Josh Lopez – Linebacker
Joseph Hohne – Linebacker
Joel Calderon – Secondary
Aidan Christal – Secondary
2nd Team Offense
Easton Myrick – Receiver
2nd Team Defense
Travis Ratterree – Lineman
Zack Fly – Lineman
Honorable Mention Offense
Kade Nicholls – Lineman
Seth Ramsey – Lineman
Brock Ambelang – Offensive Back
Jackson Young – Receiver
Honorable Mention Defense
Josh Nate – Secondary
Academic All-State awards* 
Brock Ambelang
Cade Barone
John Henry Friesenhahn
Joshua Lopez
Joshua Nate
Kade Nicholls
Seth Ramsey
Jackson Young
*These students were recognized for their excellence in the classroom as well as in their sport. To earn this award, students must be a junior or senior, have at least a 90 cumulative grade point average and be selected to at least Second Team All-District in their respective sport.