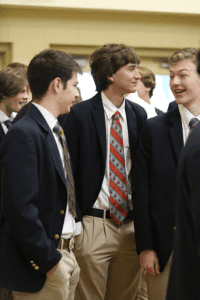 Geneva began the new school year on Tuesday, August 30 with 715 students. Geneva is a classical and Christian 12-K private school that develops servants, scholars, athletes and artists equipped to do hard things to the glory of Jesus Christ. The school is known by three distinctives—it provides a classical and Christian curriculum with deeply invested educators in a faithful and supportive community.
The school's mission is to provide a classical education from a biblical worldview to equip students for a lifetime of learning, service and leadership to the glory of Jesus Christ.
A classical education is comprised of three stages—grammar, logic and rhetoric—known as the trivium. Through award-winning programs, Geneva graduates are equipped with a biblical worldview and are critical, logical thinkers, able to discern truth, beauty and goodness.
"Our aim is to educate young men and women to seek virtue as exemplified in Christian faith, biblical wisdom and the classical pursuit of truth. Our encouragement to students is to be steadfast and sturdy in this world in preparation for the world to come, to be the salt and light in a world so in need of the truth of the gospel," Head of School David Corbin Ph.D. said.
The Rhetoric School serves high school students in grades 9-12 and in addition to teaching subjects, students learn to see the big picture of humanity and history and to find their place in it as disciples of Christ. This is training in being Christian thinkers, not just competent test takers.
In addition to its already rigorous academic curriculum, the high school offers Advanced Placement courses in Biology, Chemistry, Physics, Calculus, Statistics, Music Theory, Spanish and Latin, Microeconomics, U.S. Government and Politics as well as Computer Science.
"A daily liturgy is new this year for high school students as they gather with the faculty for 15 minutes at the beginning of every day to sing, pray and recite scripture. It is beautiful to hear all those voices united together in proclaiming the truth. My hope for this school year is that we all grow more and more to embody the beautiful truth of the gospel," Rhetoric School Headmaster Dirk Russell said.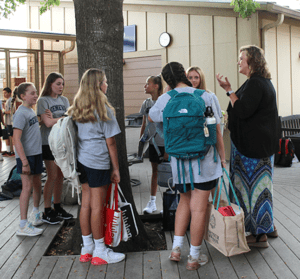 The Logic School serves students in grades 6-8 where students learn to analyze statements critically and to argue claims systematically by arranging terms and facts into arguments to prepare them to always offer a reason, and to do so respectfully.
"Meeting the Logic School students where they are at now; and, not leaving them there, but bringing them to place where they learn to be counter-cultural thinkers is the challenge indeed that we all face, and that we look forward to focusing on in the Logic School," Logic School Headmaster Aaron Southwick said.
Students in grades 7-12 compete in a robust athletic program with cross country, cheer, volleyball, football, soccer, swim, basketball, baseball, softball, tennis, golf, and track and field. The excellent fine arts program offers art, band, guitar, jazz ensemble, music theory, praise ensemble, songwriting, theatre performance, theatre tech and competition, and vocal music.
In grades K-5, phonics, basic math facts, problem-solving, chronological historical study, fundamental writing skills, increasing reading mastery and hands-on science exploration are emphasized. Latin is taught beginning in third grade. The brand-new Kindergarten Preparatory Program was added to the Grammar School this year and began with 24 students. This K-Prep program was created to set students on the path of a classical and Christian education.
"In Grammar School, our desire is to develop life-long learners who delight in learning with a sense of wonder. Our scholars participate in activities that bring academics to life such as living their part in the feudal system and mummifying chickens like the ancient Egyptians," Grammar School Headmaster Jessica Gombert said.