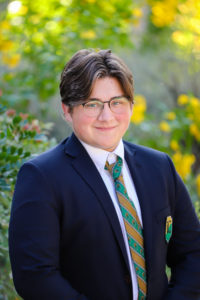 What is the most influential book you have read besides the Bible? Why?
Asylum by Madeleine Roux. Although this is a young adult, fiction novel that doesn't have any intentional Christian or philosophical message, the depth of the story reminded me of why I enjoy reading; and the use of historical photographs to bring the story to life really bridged the gap between traditional text-based books, and modern text and image storytelling.
What is your favorite or funniest moment at Geneva?
House induction at the end of my eighth-grade year. It was the first experience with the Rhetoric School and the older students who would become close friends.
What will you miss most when you leave Geneva?
The community of friends, teachers, and staff. Everyone who works together to make students successful.
Who has influenced you most while at Geneva, How?
(Former) Coach John Brock. His encouragement and sense of humor helped guide and educate during multiple athletic seasons.
What does being a Geneva student mean to you?
Responsibility – fulfilling the things that others expect and need you to do.
How would you encourage a Geneva kindergartner to persevere in school?
Keep working hard, even when you cannot see how the assignment will help you.
What about Geneva do you hope never changes?
Induction Ceremony.