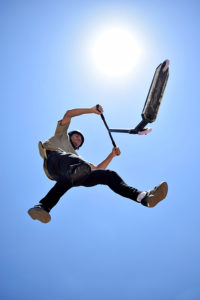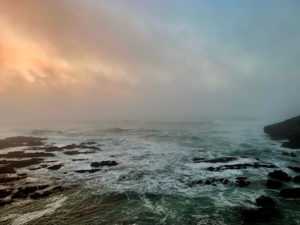 Geneva journalism students competed in the Texas Association of Private and Parochial School's Fall Photo State Contest. The contest offered six different photo categories: Animals, Cityscape/Urban Architecture, Experimental/Enhanced, Scenic/Landscape, Still Life and Waterscapes/Seascapes. Overall, 65 schools were represented with a total of 1,738 different entries in this state contest.
Senior Gracyn Freiling earned third place in the TAPPS 4A Animals photo category. Senior Gillian Loflin earned third place and senior Charlotte Walker earned an Honorable Mention in the TAPPS 4A Cityscape/Architecture category.
The remaining photography categories were judged with several classifications joined together. In the TAPPS 1A-4A classification, senior Gillian Loflin earned an Honorable Mention in the Formal Portrait category. Seniors Charlotte Walker earned second, David Grote was third (for scooter photo titled "Over the Top." above) and Gillian Loflin was recognized with an Honorable Mention in the Informal Portrait category.
In addition, junior Sydney Dennis took both third and fourth place in Still Life and senior David Grote earned runner-up in the Student Life category. Freshman Joshua Kupferschmid earned second place (for photo titled "Embarking" above) and sophomore Nicolas Siller earned Honorable Mention in the Waterscapes category.
Senior Anson Eggerss was third in the Experimental category for the TAPPS 1A-6A classifications.
These students are members of the Geneva Rhetoric School magazine staff, yearbook staff or student photography team. These student-produced publications are advised by Becky Ryden (magazine) and Christina Hammock (yearbook and photography team) in the Geneva Journalism Department.
"I'm so proud to have such a well-developed journalism department in a small Christian school. It is great that these students can explore photography, design and journalistic writing in such depth and take real-world experience on with them if they choose to pursue a career in journalism or design," Hammock said.
Geneva's Journalism Department has more than 60 students who contribute to produce award-winning publications. In addition to advising the quarterly magazine, Ryden advises The Calliope, which is an annual literary magazine containing poetry, art, photography and literary works by Geneva students, faculty and alumni. Hammock advises the school's K-12 yearbook called TheBOARDWALK. Geneva's magazine and yearbook have been recognized for excellence at the state and national level by high school journalism organizations such as TAPPS, the Texas UIL-Interscholastic League Press Conference, the Columbia Scholastic Press Association and the National Scholastic Press Association.