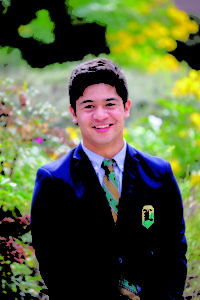 What is the most influential book you have read besides the Bible? Why?
The book that influenced me the most would be Silence. This book put in perspective for me what it is like to be a true Christian. Silence made me think of what Christianity means to not just me, but the people around me.
What is your favorite or funniest moment at Geneva?
My favorite moment at Geneva would have to be when Zack Fly did his Mr. Christmas song and Travis, Scott and I came out in Boxes and just danced around him.
What will you miss most when you leave Geneva?
I will definitely miss my friends at Geneva. I have met the most extraordinary group of people I think I will ever meet here. It is sad we won't be in the same school again.
Who has influenced you most while at Geneva? How?
Paul Johnson, without a doubt, has influenced me most at Geneva. He's so indifferent to everything and it is honestly amazing that he's even a teacher because he's acts more like a student than some actual students. I wish to be more like him in college. I'll miss him greatly!
What does being a Geneva student mean to you?
Being a Geneva student means that I am doing the best I can at every moment. I want to do the best with the moments I get with my family, my friends and with God.
How would you encourage a Geneva kindergartner to persevere in school?
I would encourage Geneva kindergartners to know how amazing and life changing this school is. I would tell them what this school has done for me in just four short years.
What about Geneva do you hope never changes?
I hope Paul Johnson never changes and I mean that in the most sincere way possible.