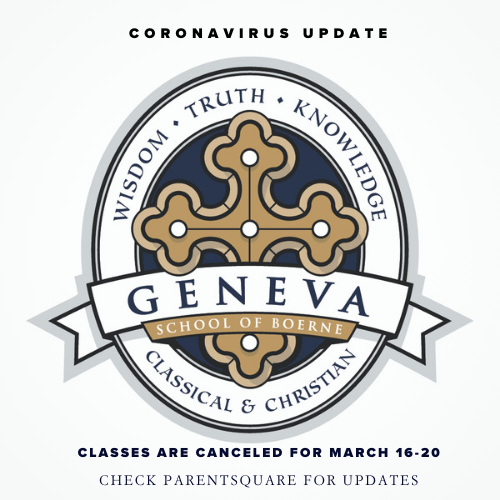 Dear Geneva School Community,
In the previous update, I indicated that we planned to suspend all school activity on Monday, March 16, but that classes would resume Tuesday with the qualifier that "we may need to reconsider this plan" given the continual flow of information and changing landscape.
After a day of email and text exchanges with the school's administrative team and Board of Trustees, we reached an agreement that we will suspend all school activity for the entirety of the week of March 16-20 in order to give the administrative team and faculty more time to develop a plan in the event a longer school closing is necessary or mandated by government officials.
Our closing this week is in line with Boerne ISD's closing as well as the closings of most schools in San Antonio. It is also in line with the Texas Association of Private and Parochial School's decision to suspend all competitions until after Easter.
The Board of Trustees will convene after we have had time to form a plan to provide the school with contingencies, including online learning options. Please look for an update around the middle of the week.
Thank you for your patience as we seek to make wise and informed decisions for the sake of your children.
Brad Ryden, Head of School