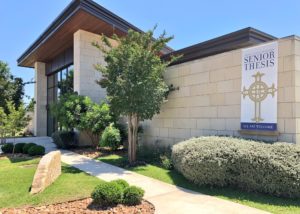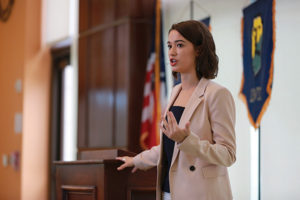 As the last step toward graduation, the seniors at Geneva write and defend a thesis. The senior thesis is a dissertation in which the student advances an original point of view, typically on a controversial topic. Seniors begin the academic year by selecting a topic with help from their faculty adviser. Topics are then researched and a final draft is submitted before the student prepares for the oral presentation.
The first part of the thesis presentation is an eloquent 20-minute speech delivered from memory. The speech is ​traditionally delivered before three panelists ​conversant in the thesis topic, schoolmates, parents, faculty members​ and guests. ​This year, an esteemed Geneva faculty member will serve as a panelist for each student in the questioning sessions wherein the student will demonstrate competency in his field of research and the ability to "think on his feet."
"The senior thesis presentation culminates the classical and Christian education by tasking seniors with the goal of identifying a topic of interest, staking a claim within that topic, defending that claim with substantial and persuasive research while also addressing opposing arguments. Then they memorize, present and defend that work before an audience. It calls upon the acquired abilities of winsome rhetorical and critical thinking skills," Geneva Senior Thesis Director Hillary Short said.
This year, the senior thesis presentations will be conducted virtually. The 58 seniors in the Class of 2020 will deliver their presentations as either recorded videos from home or via a presentation live-streamed.
​"Geneva's senior thesis program convinces students they can do hard things and that they are made in God's image, which means they are strong. They are capable of taking up the armor for God's kingdom, navigating the world's challenges and standing up for Christ's truth clothed in humility and strength. In many ways, this course proves that to students, and that's empowering," Short said.
One senior will be recognized as the 2020 winner of the G.K. Chesterton Award for the best overall senior thesis presentation. The G.K. Chesterton Finalists this year are ​Jacob Austin Allen, ​William Menefee Bower, ​Jack Christian Cupit, Anson Ernst Eggerss, Catarina Elise Flores, Gracyn Laura Freiling, Jayne Isabella Goodman, David Christopher Grote, Braden Davis Hall, Gillian Anne Loflin, Corley Ann Petrie and Charlotte Glenn Walker.
Check ParentSquare for details and the virtual presentation schedule which is set for May 11-20. Click here for the 2020 Senior Thesis Presentation Program.