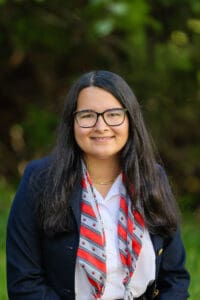 What is the most influential book you have read besides the Bible? Why?
Pride and prejudice because it is a good example of a female who can stand up for herself.
What is your favorite or funniest moment at Geneva?
My favorite moment at Geneva was when I crying one day for my brother death and five of my friends were comforting me. They did not know the reason why I was crying but they still comforted me anyway and it brought me joy that I have amazing friends at Geneva.
What will you miss most when you leave Geneva?
I will miss my friends and my teachers.
Who has influenced you most while at Geneva? How?
Mr.Covington because he helped me have a deeper understanding of Christianity.
What does being a Geneva student mean to you?
Attending Geneva means I have a wonderful opportunity in receiving an amazing education, growing in my faith, and in my knowledge about the Lord.
How would you encourage a Geneva kindergartner to persevere in school?
I would tell them to try your hardest in school and never give up when it gets tough.
What about Geneva do you hope never changes?
How caring the teachers are to the students. Teachers go out of their way to help students and care for you such as when my brother past away my teachers understood how hard it was for me.