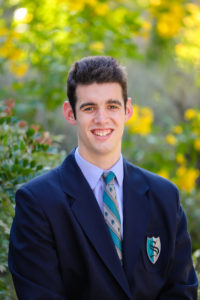 What is the most influential book you have read besides the Bible? Why?
It might sound a little childish, but it was honestly Thomas the Tank Engine: The Complete Collection. Reading that book as a kid taught me some great life lessons. Things like perseverance, humility, and even things as simple as apologizing for mistakes. James was the man! LOL.
What is your favorite or funniest moment at Geneva?
Hayes playing basketball at lunch. Do I have to say anymore?
What will you miss most when you leave Geneva?
For sure I will miss all the teachers, administrators, and everyone who works at the school. Everyone knows me by name and the ability to talk to anyone about anything and they will listen and give you helpful advice, is what I will miss the most.
Who has influenced you most while at Geneva, How?
For me, it is Mr. Naiser. He gave me the confidence to try new things, take harder classes, and helped me learn to take mistakes and turn them into teaching moments. He's just awesome!

What does being a Geneva student mean to you?
It means that I am well versed in history and the classics and that I am well equipped to handle whatever circumstances life throws my way!

How would you encourage a Geneva kindergartner to persevere?
Just keep going! I know that not having nap time anymore is hard, but if you stay focused, anything can be done!
What about Geneva do you hope never changes?
I hope that Geneva never loses the close-knit family feeling that you get every day. Everyone knows your name, and everyone wants you to succeed. It just feels good to go every day!