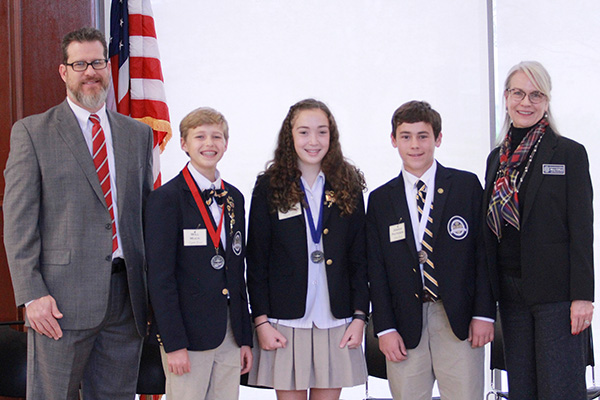 Geneva held its annual spelling bee for students in sixth through eighth grades on Monday, December 9. Eighth-grader Claire Coultress (center) was crowned the 2019 Geneva Logic School Spelling Bee Champion. She won on the word "writhing."
With the win, Coultress will take the pre-qualifying test administered at Geneva in late January. From there she would go on to the 67th Annual San Antonio Express-News Regional Spelling Bee on March 21. The winner of that bee will compete at the national level. Eighth-grader Will Muck (on left) finished as runner-up and Joshua Patteson earned third place in Geneva's Spelling Bee.
"In addition to the obvious language components and benefits, and in the spirit of the liberal arts tradition, participation in the Geneva Spelling Bee affords students the opportunity to develop self-confidence and to thrive under pressure in front of an audience while honing their public speaking skills. We are very proud of this year's participants," Geneva Logic School Headmaster Jeff Jones said.
The 2019 Geneva Spelling Bee finalists were: Luke Brunsvold, Elle Chalmers, John Kelley Chisholm, Claire Coultress, Bethany De Luna, Sofia Griffey, Will Muck, Nadia Nowosiwsky, Joshua Patteson, Piper Pruitt, Kailey Stringfellow and Peyton Turnbow. These students competed in preliminary rounds to qualify for the final round of competition which determined the champion.
"It is always a joy to see students celebrate the beauty, intricacy and diversity of the English language through our school Spelling Bee program. This year's finalists did an outstanding job!" Geneva Logic School Dean of Girls and Humanities teacher Mary Clifford said.