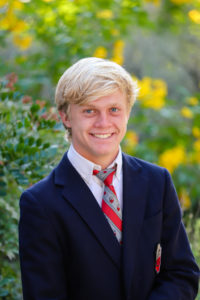 What is the most influential book you have read besides the Bible? Why?
The most influential book to me was Silence because it taught us about persecution and that it is relevant in our world today.
What is your favorite or funniest moment at Geneva?
My favorite time was playing kick ball in 5th grade.
What will you miss most when you leave Geneva?
I'll miss the friends and the fellowship within my grade the most.
Who has influenced you most while at Geneva, How?
Ronald Bracy influenced me the most because all the things he has been through and how much I learned about life in his class.

What does being a Geneva student mean to you?
Being a Geneva student means honoring God in everything I do.

How would you encourage a Geneva kindergartner to persevere?
Get your stuff done and do not put it off till the last minute.