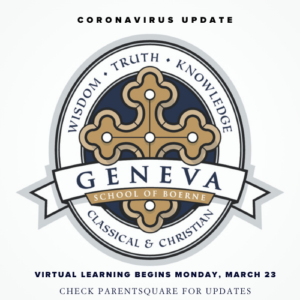 Geneva School will begin Virtual Learning Classes on Monday, March 23 with the hope to return to in-person classes on our campus on Monday, April 13. Please check our website and ParentSquare for Coronavirus (COVID-19) updates and details. We are in the process of setting up a special Coronavirus (COVID-19) Updates link at the top of our homepage to serve as a source of information and encouragement during this challenging time. Please look for this on Thursday.
Geneva is tracking news and information about the spread of COVID-19 (coronavirus) worldwide, nationally and in the San Antonio/Boerne area. Our first priority is to keep our students, faculty, staff and school community safe. Our goal is to provide timely updates in regard to this evolving situation and give helpful resources.
Please review this Updates page for the most current information we have for our Geneva community. Please also check ParentSquare daily for specific information pertaining to the school calendar, class schedules, events, practices and student requirements. Let's stay connected through Geneva's social media platforms through Instagram, Twitter and Facebook. May you know the peace that is only found in Jesus Christ as we navigate these uncertain times together. Blessings on you and your family.
Here is the most recent letter from Head of School Brad Ryden:
Dear Geneva Community,
As indicated in the community message this past weekend, the school's Board of Trustees met yesterday to decide whether we need to close the Geneva campus longer than this week. After assessing recent information from the CDC, considering state and national guidelines and praying for wisdom, the Board was united in its decision to keep the Geneva campus closed to students and families until at least April 13, the Monday after Easter. While there is no indication that the virus is within our school community, the Board reached this decision out of concern for the safety and well-being of our community – students, parents, teachers and extended family.
In anticipation of this decision, the school's administrative team, faculty and I have been preparing for making the shift to virtual learning. This coming Monday (March 23), we will begin instructing students using a combination of traditional and digital resources.
Virtual learning will look different across the three schools – Grammar, Logic and Rhetoric. The headmasters of each will email you on Friday with information about what this will look like for you and your student. In general, Geneva's virtual learning will incorporate the following:
Classroom materials we have been using this year (literature titles, textbooks, worksheets, etc.). We will announce days for parents to pick up materials from Logic and Rhetoric School lockers. Grammar School staff will load bags with student's materials to pick up outside the classrooms. We will encourage parents to exercise social distancing while on campus. Look for information in the headmaster's emails about the pickup days.
A central Learning Management System (LMS) that is tied into our FACTS/RenWeb Student Information System (SIS). The LMS will serve as a central location for Logic and Rhetoric School students to get their assignments, videos of lectures from their teacher, quizzes, links to resources and much more. Grammar School will use ParentSquare for posting assignments and videos. Information about how to login to the LMS will be sent tomorrow.
Regular Zoom meetings between teachers and their students and teacher office hours for parents and students who need help. The Zoom meetings will allow the teachers to check in with their students, answer their questions and go over the plan for the week. A schedule for each grade level will be posted this week and show you when the Zoom meetings and office hours will occur. Click here to watch a one-minute video on how to join a Zoom meeting.
Please note that the LMS and Zoom are accessible on PCs as well as mobile devices. We know that many families have more than one child in the school, so we chose platforms that work on multiple devices.
We are creating a page on our website that will serve as a repository for these messages as well as more information to come. We will also have a link to a school email account for those parents who need IT help with the LMS, Zoom or other platforms.
The headmasters and faculty have been working through details this week related to creating video lectures, posting assignments on the LMS as well as the purpose and frequency of the Zoom meetings.
We have emphasized with our faculty (and it is worth repeating here) the fact that we are entering new territory and as such, we should proceed carefully and with purpose. If the first part of next week feels as though the program is going a little too slow for you, please know that we would rather miss the mark by doing too little than too much at launch. Please bear with us as we begin this new mode of educating our students.
The Board and I are staying current on health conditions in our area as well as announcements made at the state and national level. We will reassess the situation in a few weeks and let you know before Easter if the campus is able to reopen as we hope on April 13.
Sincerely,
Brad Ryden, Head of School
P.S. Over the last few days, I have had several people mention the comfort they are getting from Psalm 91. I have heard it mentioned enough that I know I should share it with you. I hope this will be a source of comfort to you as it is to many others.
Psalm 91 – My Refuge and My Fortress
"He who dwells in the shelter of the Most High will abide in the shadow of the Almighty. I will say to the Lord, 'My refuge and my fortress, my God, in whom I trust.'
For he will deliver you from the snare of the fowler and from the deadly pestilence. He will cover you with his pinions, and under his wings you will find refuge; his faithfulness is a shield and buckler. You will not fear the terror of the night, nor the arrow that flies by day, nor the pestilence that stalks in darkness, nor the destruction that wastes at noonday.
A thousand may fall at your side, ten thousand at your right hand, but it will not come near you. You will only look with your eyes and see the recompense of the wicked.
Because you have made the Lord your dwelling place—the Most High, who is my refuge—no evil shall be allowed to befall you, no plague come near your tent.
For he will command his angels concerning you to guard you in all your ways. On their hands they will bear you up, lest you strike your foot against a stone. You will tread on the lion and the adder; the young lion and the serpent you will trample underfoot.
Because he holds fast to me in love, I will deliver him; I will protect him, because he knows my name. When he calls to me, I will answer him; I will be with him in trouble; I will rescue him and honor him. With long life I will satisfy him and show him my salvation."