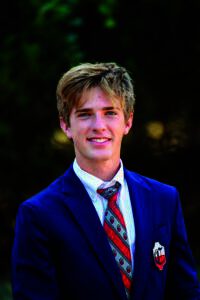 What is the most influential book you have read besides the Bible? Why?
Animal Farm is the most influential book I have read besides the Bible. It teaches an interesting perspective to another worldview.
What is your favorite or funniest moment at Geneva?
My favorite moment at Geneva was when we got stuck at Buc-ees after the Houston soccer tournament.
What will you miss most when you leave Geneva?
I will miss the sports and the community the most when I leave Geneva.
Who has influenced you most while at Geneva? How?
Coach Victor has influenced me most. Coach has not only shown me how to be a better player but also a better person on the field.
What does being a Geneva student mean to you?
Being a Geneva student means that you can walk freely with God in school and with the community around the school.
How would you encourage a Geneva kindergartner to persevere in school?
I would tell a kindergartner to learn how to manage their time because it will help them later on.
What about Geneva do you hope never changes?
I hope that the way we are able to learn about God not only in Bible class but also in all of my other classes never changes.