What is the most influential book you have read besides the Bible? Why?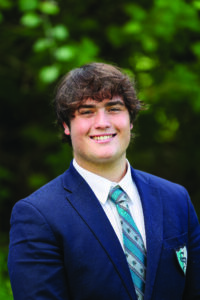 Silence. I read it in Dr Covington's Class. It taught us what it is to fight for our beliefs. Especially in our faith.
What is your favorite or funniest moment at Geneva?
My favorite memory at Geneva was the Mr. Christmas pageant . When I fought Sam on stage with pillows.
What will you miss most when you leave Geneva?
I will miss Coach Scott and Coach Rippee. They influence the way I will live life outside of Geneva. They taught me what it was to be a man.
Who has influenced you most while at Geneva? How?
Mr Southwick. He taught me life lessons and how people should be treated. He helped me navigate my life.
What does being a Geneva student mean to you?
A Geneva student works hard to honor and bring glory to God through their work and actions.
How would you encourage a Geneva kindergartener to persevere in school?
I would encourage a kindergartner to listen to their parents and teachers. They need to trust in God and work hard no matter what.
What about Geneva do you hope never changes?
I hope the community at Geneva never changes. Geneva's community is awesome.