What is the most influential book you have read besides the Bible? Why?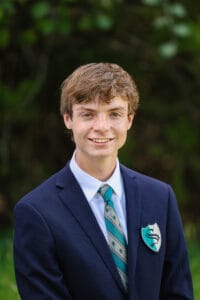 The Question of God. It made me self-reflect and realize that I have a long way to go in my faith journey. I liked hearing the atheists side to the arguments, and comparing them to my beliefs. All in all, it really just made me think a little deeper about my faith and reaffirmed my beliefs.
What is your favorite or funniest moment at Geneva?
Whenever Mr. Shelton and Mr. Desario dressed up as Hanz & Franz for Jogathon.
My dad had been showing me Hanz and Franz videos a couple days before jogathon and I though it was really funny. I kept quoting them and saying "We're going to pump… you up" and laughing every time I said it. Seeing the Bald eagle and Mr. Desario come out in the muscle suites was one of the funniest things I've ever seen while at Geneva.
What will you miss most when you leave Geneva?
The house system. Sayers, Milton, Lewis, and Chaucer.
Playing quidditch.
The boardwalk.
Who has influenced you most while at Geneva? How?
Mr. Naiser. He showed me how to be devoted to being a Christian and having faith with works. In James 2 it says
"What good is it, my brothers, if someone says he has faith but does not have works? Can that faith save him?"
James 2:14
Mr. Naiser has both faith and works and I aspire to be like him.
He is the reason I got baptized and pursue Christ. Without Mr. Naiser, I would not have a relationship with Jesus and I would not be in the same place in my faith.
What does being a Geneva student mean to you?
Getting to exemplify Christ's love, shown to me through my teachers and friends. Having support from all my teachers, no matter the circumstances. Always being able to choose to grow closer to God everyday.
"But be doers of the word, and not hearers only, deceiving yourselves."
James 1:22
This verse is a great testament for what we need to do as a Geneva student. You will hear the Word, and you will see it acted out by your teachers. But you must make a choice to not only hear/see the word, but act upon it.
How would you encourage a Geneva kindergartner to persevere in school?
I would tell kindergartners that God loves them, and that is all that is going to matter in the end. School does not have to be hard unless you make it hard on yourself. School is so much easier with Jesus in the center of it. Make sure to evaluate yourself and make sure you are growing in your faith while at school. Have good communication with your parents and teachers. Let them know if something is wrong or if you need help.
What about Geneva do you hope never changes?
How it feels like a home, instead of a workplace.
The old school type teaching where you get to have a relationship with your teacher.
Reading physical books instead of digital.