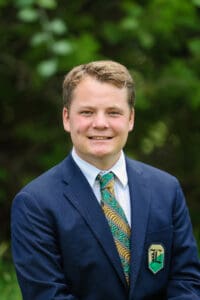 What is the most influential book you have read besides the Bible? Why?
It's called Make your Bed; it's not about how to make your bed. It is about how little things can change your life, like having a good attitude and how you can endure hard times.
What is your favorite or funniest moment at Geneva?
My favorite moment is induction day because I get to go and talk to many people about what they are excited about for high school.
What will you miss most when you leave Geneva?
I will mis the community the most when I leave Geneva.
Who has influenced you most while at Geneva? How?
Mr. Naiser, right when we walked into his classroom he said that he loved us. He didn't know anyone of us and he loved us.
What does being a Geneva student mean to you?
Someone who is after Gods own heart and someone who has childlike wonder,
How would you encourage a Geneva kindergartner to persevere in school?
Just one step in front of another,
What about Geneva do you hope never changes?
The community and how open you can be to people.