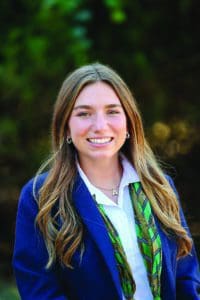 What is the most influential book you have read besides the Bible? Why?
The most influential book I have read is Silence because it led to great discussions about faith and Christianity.
What is your favorite or funniest moment at Geneva?
My favorite moment was the drive home from the state semifinal game my junior year.We made so many stops along the way and enjoyed our last bus ride of the season!
What will you miss most when you leave Geneva?
I will miss the close community and the faith-based education I have received from my teachers.
Who has influenced you most while at Geneva? How?
Dr. Rosheger has influenced me the most because of the way he incorporated deep discussions about faith while studying the difficult subjects of Latin and New Testament Greek.
What does being a Geneva student mean to you?
A Geneva student means being a leader and being an example of Christ to those around you.
How would you encourage a Geneva kindergartner to persevere in school?
I would say to embrace the difficulties that come with learning because it will help you grow as a person.
What about Geneva do you hope never changes?
I hope the classical structure never changes, and the literature that we get to read stays the same.