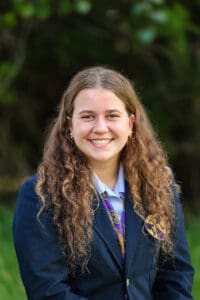 What is the most influential book you have read besides the Bible? Why?
The most influential book Ive read is the Disciplines of a Godly Woman by Barbra Hughes. Because I read it with multiple friends and we all learned a lot from it and got to share what we learned.
What is your favorite or funniest moment at Geneva?
One of my favorite moments was the powderpuff game when the juniors won and George Viña gave a really meaningful speech to the girls who played. It was funny because he sounded like a real coach after we won the state championship.
What will you miss most when you leave Geneva?
I will definitely miss the community that Geneva has created the most.
Who has influenced you most while at Geneva? How?
Lily Langenbahn has influenced me the most at Geneva. She influenced me by pushing me to be my greatest on and off the volleyball court. She has also been a great friend to me and shown me through example what it is like to live a life in Christ.
What does being a Geneva student mean to you?
Being a Geneva Student means to be respectful to everyone around you and a Godly woman living a Christ-like life in and out of school.
How would you encourage a Geneva kindergartner to persevere in school?
I would say it keeps you in a christian community and It is great to be surrounded by a community of people you have gone to school with forever.
What about Geneva do you hope never changes?
I hope they never change the house system and field day.