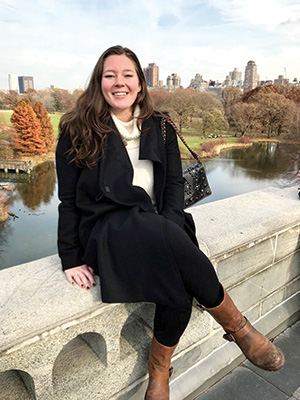 In what ways did your Geneva education/training prepare you for the work you are doing now?
I would say the Geneva education prepared me in two major ways, the first of which was instilling critical thinking skills. Analysts are expected to go above and beyond the task given to them by evaluating the objectives of the project and coming up with ways to further add value. Secondly, Geneva taught me how to be an effective communicator; both in college and during my internships on Wall Street I was highly reviewed for my oral and written communication skills.
Please describe the most significant value you learned from Geneva.
I think of the mantra "diligence and excellence in all things" often as I see it applying to all areas of my life. From being thorough and detail-oriented making pitch books, to being diligent and consistent in maintaining relationships, to an overall sense of striving to do your best in everyday life and appreciating that same drive in others.
How would you encourage a Geneva Rhetoric School student to make the most of their Geneva years?
Think critically about how to defend your faith before you have to do it in real life. I know that it came up often in my classes and I would half listen and think, "I'm pretty smart, how hard can it be?" I both underestimated how difficult it would be to defend and share my views with a close friend and overestimated how much of Mr. Shelton's and Mr. Russell's words I had internalized. Also picking out what to wear every day is way overrated and a lot harder than you would expect; love the uniform while you have it.
Describe Geneva in one word. Explain.
Worthwhile. It is not easy to be a Geneva student or family because it is hard (and almost possible) to do the bare minimum. The school asks you to work hard in classes, to participate in time-consuming extracurricular activities, to engage in the house system, to get involved as a whole family and to generally buy-in to the school's philosophy. Geneva is what you make of it and if you commit to the school and make the most of all it offers, then you will get a great education, important skills, a unique experience and a special community in return.
Please share one or two of your Geneva extracurricular activities and then contrast that with one or two of your current non-work activities.
Sadly, I work between 70-80 hours a week and have no non-work activities beyond working out and seeing my friends, so this is probably not a great question for me. My job consumes almost all of my time, but when I am able to escape, I enjoy running and hunting for the city's best bagel with my friends from W&L.
What are your future career goals and how do you feel prepared for them? How has Geneva been a thread that has connected you to your work now and what you see yourself doing in the future?
While there are many different things I could see myself doing in the long term, for now I plan to stay in finance. There are so many opportunities for an analyst at an investment bank to continue to develop expertise in his or her group, to transition between groups and products and to grow into a more senior client-facing role. I was attracted to this job because it challenges me and demands my best work every day while giving me more responsibility than most entry level jobs would. I definitely credit Geneva for developing the love of learning that motivated my college choice and now my career path. I especially believe my experience on the debate team taught me to be a problem-solver, to perform well under pressure and to never limit my goals.
How are you impacted by living in New York City? What is something you have learned/are learning about yourself and God's world?
New York is a competitive city. Everyone seems to be trying to out-dress, out-spend, out-work and out-complain each other. Amidst a challenging work and social environment, it can be hard to stay grateful, positive and humble, but God constantly reassures me of His presence and reminds me that I am blessed beyond measure.