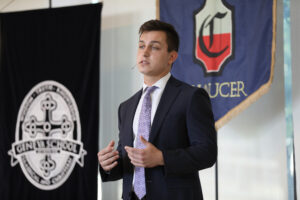 Seniors at Geneva write and defend a thesis as the last step toward graduation. The senior thesis is a dissertation in which the student advances an original point of view, typically on a controversial topic. Seniors begin the academic year by selecting a topic with help from their faculty adviser. Topics are then researched and a final draft is submitted before the student prepares for the oral presentation.
The first part of the thesis presentation is an eloquent 20-minute speech delivered from memory. The speech is delivered before three panelists, schoolmates, parents, faculty members and guests. Upon completion of the oral presentation, the invited panelists, conversant in the thesis topic, question the student on points that have been raised. The student demonstrates competency in fielding the questions by "thinking on his feet."
Jackson Young, son of Cindy and Kevin Young of Boerne, was recognized as the 2021 winner of the G.K. Chesterton Award for the best overall senior thesis presentation. Other G.K. Chesterton Finalists were Brock Ambelang, José Ballí, Cody Lane George, Quentin Hartman, Alex Iyer, Hannah Ledoux, Hannah Pratt, Lily Radigan, Gabe Ross, Connor Schaefer and Alethea Ward.
This year, the senior thesis presentations were conducted in the Lyceum. The 54 seniors in the Class of 2021 presented and defended their thesis.