What is the most influential book you have read besides the Bible? Why?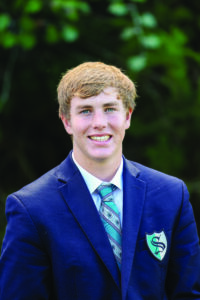 The most influential book I have read is Silence. It is influential because it showed what the Christians in Japan went through at that time and it made me appreciate the freedoms we have here in America.
What is your favorite or funniest moment at Geneva?
My favorite moment while at Geneva was winning the state championship in football my freshman year.
What will you miss most when you leave Geneva?
When I leave Geneva, I will miss the relationships with the teachers the most.
Who has influenced you most while at Geneva? How?
Mr. Naiser has influenced me the most because he taught me to have childlike wonder in everything I do.
What does being a Geneva student mean to you?
Being a Geneva student means that I can openly talk about my faith and discuss things that matter in life from a biblical perspective with teachers.
How would you encourage a Geneva kindergartener to persevere in school?
I would encourage a kindergartner to not take their time in school for granted and to cherish every moment.
What about Geneva do you hope never changes?
I hope that the Geneva community never changes.