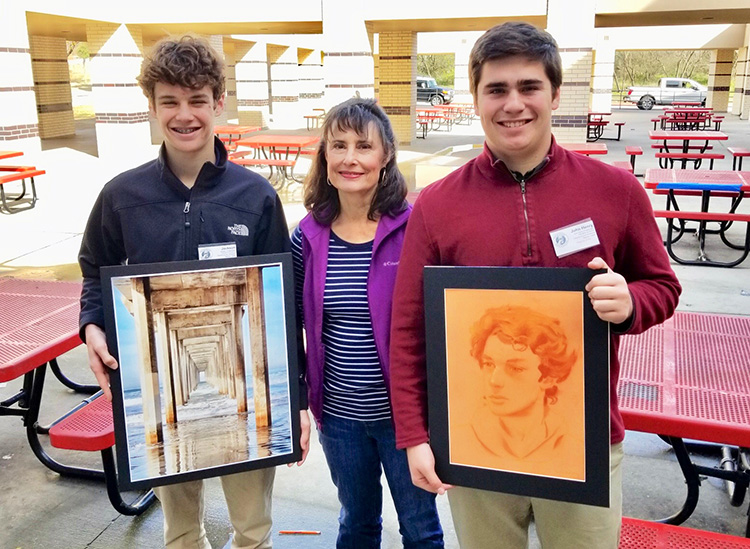 Geneva Rhetoric School art students competed in the Region 20W VASE (Visual Art Scholastic Event) Contest on Saturday, February 23 in San Antonio. All six Geneva students who participated in this contest received the highest marks. These students were Jackson Friesenhahn, John Henry Friesenhahn, Alexa Georgelos, Jayne Goodman, Gwyneth Lewellyn and Annie Ramsey
.
The art created by Jackson, John Henry (at left) and Gwyneth are among the 161 pieces that will advance to the VASE State Contest on April 27. There were 1,748 pieces of art juried at the Region 20W VASE Contest last weekend.
"This art competition is comprised of mostly public school entries from the San Antonio and Hill Country area, so it was a much more expansive contest than the TAPPS competition which is limited to only private and parochial schools from around the state," Geneva Rhetoric School art teacher Cathy Lester said.
The mission of the Texas Art Education Association VASE Contest is to recognize exemplary student achievement in the visual arts by providing art students and programs a standard of excellence in which to achieve.
"VASE is a very large, well organized art contest where each student has a personal interview. It was a positive, encouraging experience for our students and we are excited that three of our Geneva artists are advancing to State. As always, it is a great joy to be with our students at competitions. Congratulations to all of these students for their extraordinary work!" Lester said.