Geneva celebrated its annual Book Week in which Grammar School students and teachers focused on their love of reading. The theme of  "Once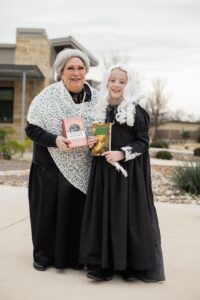 Upon a Time and Nursery Rhymes" culminated in the beloved tradition of the Book Character Parade where each member of the Grammar School was dressed as a classic book character or historical figure.
The week-long celebration also included activities such as D.E.A.R. (Drop Everything and Read), a book drive for "Boerne Reads" for distribution of used books to under-served children, surprise guest readers in each grade-level classroom and the decoration of each classroom door to illustrate the students' love of classics.
Geneva's 12th Annual Book Week Poster Contest was held for kindergarten through second grade as well as third through fifth grade. In the younger grades, second-grade student Bristol Vis won first place for her poster entry.
In the upper grade contest, fifth-grader Callie Patteson was named Grand Champion which means her poster will be framed and hung in the Geneva Library, as well as used to celebrate 2024 Book Week.