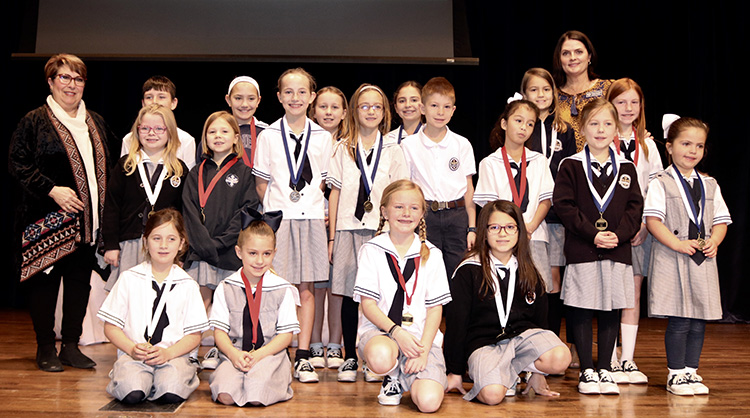 Grammar students celebrated National Handwriting Day during the school's John Hancock Handwriting Awards Assembly. John Hancock is known for his distinctive bold signature on the Declaration of Independence.
Students in kindergarten through fifth grade entered the school's annual competition by submitting a handwritten Bible passage from Isaiah 40:28-31. Teachers submitted the top three handwriting samples from each grade and the faculty chose the winners anonymously per grade. These students were recognized in the assembly.
In kindergarten, Audrey Diebel placed first, Reagan Bellamy was second and Meridan Crawford finished in third place. Callie Grace Patteson finished in first place with Ryleigh Serafy and Ava Munsell coming in second and third place, respectively, in the first grade contest. 
Second grade student Ruby Svendsen earned first place, Katie Chapa was second and Jaden Boerboom finished in third place among second graders. In third grade, Katie Gray placed first, Charlotte Hill was second and Addison Griffey finished in third place.
Drew Green placed first, Kendall Sehlke came in second and Bryce Hanover was third in the fourth grade contest. Fifth grade student Reese Amerman earned first place, Trinity Cloud was second and Baysia Bragg finished in third place among fifth graders.