What is the most influential book you have read besides the Bible? Why?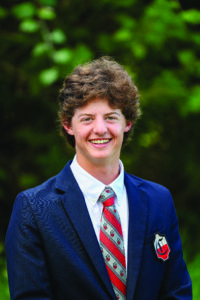 My favorite book is Unbroken. I really don't like to read, but I enjoyed the determination of Louis Zamperini.
What is your favorite or funniest moment at Geneva?
My favorite moment at Geneva was winning our baseball playoff game my junior year.
What will you miss most when you leave Geneva?
I will miss my friends the most. I have known some of them since I was born so it will be weird not to see them all the time.
Who has influenced you most while at Geneva? How?
Coach Rippee has influenced me the most at Geneva. He has taught me how to be a leader and helped me to grow in my relationship with God.
What does being a Geneva student mean to you?
Being a Geneva student means being held to a higher standard in all areas of life.
How would you encourage a Geneva kindergartener to persevere in school?
I would encourage a Geneva kindergartener to persevere in school by working hard but make sure to have fun too.
What about Geneva do you hope never changes?
I hope Geneva stays true to Biblical truth no matter what.